Hair Loss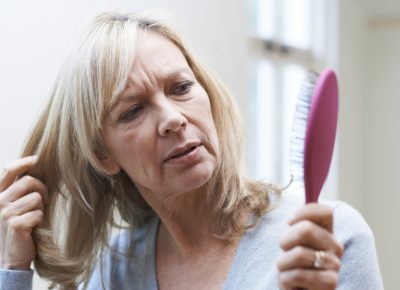 The loss of hair can be embarrassing for men and women alike. Our doctors will evaluate your current hair loss situation and take steps to help mitigate the hair loss or reverse it. A number of prescribed treatments are very effective in stopping hair loss and some have even been shown to re-grow new hair over time.
Minoxidil (Rogaine). This is an over-the-counter (nonprescription) medication approved for men and women. It comes as a liquid or foam that you rub into your scalp daily. Wash your hands after application. At first it may cause you to shed hair. New hair may be shorter and thinner than previous hair. At least six months of treatment is required to prevent further hair loss and to start hair regrowth. You need to keep applying the medication to retain benefits.
Possible side effects include scalp irritation, unwanted hair growth on the adjacent skin of the face and hands, and rapid heart rate (tachycardia).
Finasteride (Propecia). This is a prescription drug approved for men. You take it daily as a pill. Many men taking finasteride experience a slowing of hair loss, and some may show some new hair growth. You need to keep taking it to retain benefits. Finasteride may not work as well for men over 60.
Rare side effects of finasteride include diminished sex drive and sexual function and an increased risk of prostate cancer. Women who are or may be pregnant need to avoid touching crushed or broken tablets.
For those who go with a surgical option, a dermatologist or cosmetic surgeon removes tiny patches of skin, each containing one to several hairs, from the back or side of your scalp. Sometimes a larger strip of skin containing multiple hair groupings is taken. He or she then implants the hair follicle by follicle into the bald sections.