L. Sarah Sidiqi
Our Spa Specialist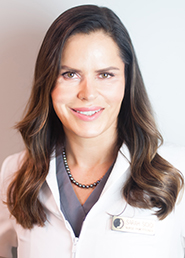 L. Sarah Sidiqi, M.S.N.,F.N.P., is a Nurse Practitioner of Accent Dermatology & Aluria Medical Spa. Board certified by the American Nurses Credentialing Center as a Family Nurse Practitioner (FNP), Ms. Sidiqi received her Master's of Science in Nursing from the University of North Carolina at Chapel Hill in 2003.  She was the recipient of the James M. Johnson Scholarship awarded to qualified students demonstrating leadership potential and excellence in academics.  Prior to joining us at Accent Dermatology & Aluria Medical Spa, Ms. Sidiqi worked as a field clinical specialist and provided company training for health care providers on Merz aesthetics facial injectable products.  Ms. Sidiqi has been practicing aesthetic medicine since 2006 and has worked with multiple injectable products including: Botox, Dysport, Restylane, Sculptra, Juvederm, Voluma, Vollure, and Radiesse.
Before her work in aesthetics and dermatology, she practiced as a pain management Nurse Practitioner at Duke University Medical Center.  Previous to receiving her FNP Ms. Sidiqi practiced for several years as a staff nurse at Duke University Hospital and she worked in several areas, including the plastic and reconstructive surgical unit and the orthopedic unit. Ms. Sidiqi also practiced as a staff nurse in Anchorage, Alaska after she completed her undergraduate degree from the University of Alaska, Anchorage in 1997. She graduated with leadership honors and was elected to Sigma Theta Tau, a national honor society for nurses, which recognizes and perpetuates excellence in the nursing profession.
Ms. Sidiqi joined our team at Accent Dermatology and Aluria Medical Spa in November 2013 and is passionate about helping her clients look and feel their best. Ms. Sidiqi resides in Swarthmore, Pennsylvania with her husband, their two children, and their beloved dogs.